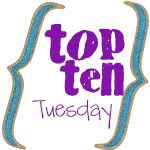 To go along with my
100 Follower Giveaway
... I decided to list my top ten reasons why you should host a blog giveaway. I'm linking up with
Oh, Amanda
and her "top ten Tuesday" blog hop.
Giveaways are a wonderful opportunity to say "thank you" to your readers.
Giveaways help spread the word about your blog, especially when you have a low number of readers.
Giveaways give you the opportunity to try something new.
You want your lurkers to come out and finally comment.
You have sponsors who are willing to donate an item for review/and or a giveaway.
Giveaways help you gain said sponsorship
Giveaways give you the opportunity to network outside your blog.
You gain more blog traffic.
Giveaways help spread awareness about the sponsored item.
It's fun!