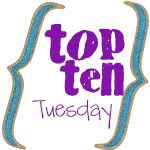 Summer is "unofficially" here, so why not have a fun list of games and activities to do with the entire family? I decided to link up with Oh, Amanda and start doing my own "top ten Tuesday".
Top Ten Family Summer Games & Activities
Drip, Drip, Drop:

It's just like "Duck, Duck, Goose", but you use a pitcher of water in stead of hands. You drip a little bit of water each time you say, "drip", and then when you're ready to "tag", you "drop" the entire pitcher over the person "it"

.
Water Balloon Toss:

Fill up some water Balloons and toss them back and forth, starting close up, and then taking a step back each time a new catch is made.

Nature Walk/Scavenger Hunt:

Make a fun list with various things having to do with nature (ie. Cardinal, Blue Jay, Worm, Spider Web, etc), go on a walk, and check things off the list... tons of fun and doesn't cost a dime!

Outdoor Movie Night:

Now, this is an awesome idea, especially if you have the equipment needed (you can even rent for around $80 for the weekend). You need to hang a white sheet or use a pull down screen (or if you have a white house, even better), a projector, DVD player compatible with said projector, movie, and popcorn. Not only is this fun for the entire family, but it can be a great way to meet neighbors (maybe they can help chip in on the rental fee).

Sidewalk Chalk and Paint:

Very fun, and very inexpensive. I can spend a huge part of my day drawling with sidewalk chalk with my boys... hop scotch anyone?!

Ice Cream Social:

Invite your friends over for a fun treat to cool everyone down from the hot and humid summer. You can supply the ice cream, and everyone can bring their favorite topping.

Tie Dye:

I know my boys have quite a few white shirts with stains I just can't get out... so, why not get a few gallon buckets, buy some tie dye, and tie dye shirts?! You can have the kids help with the "design" by telling you where to place the rubber bands, and then tie dye away. They will get a kick out of what the created once the t-shirt dries. You can even do this with white socks, underwear, etc. If it's white, it will dye. :)

Water Sprinkler Limbo:

Grab and old broom stick, turn on the sprinklers, fun summertime music, and Limbo!

Homemade Bubble Fun:

Mix 1/4 cup of dishwashing liquid, 2 cups of water, and 1 teaspoon of Sugar. Pour the mixture into a shallow container and have bubble blowing fun! You can use normal every day items to make your bubbles like rings from a 6-pack of pop, plastic cups with holes punched through the bottom, or plastic funnels.

Lemonade Stand:

This is always a fun one! You can find free lemonade stand printables to place on the stand like this one: Free Lemonade Stand Printable . You can either create your own homemade lemonade or use store bought, even fresh cookies are an added plus. Not only will everyone have fun creating their stand, but will help your children learn about money, math, and costumer service.